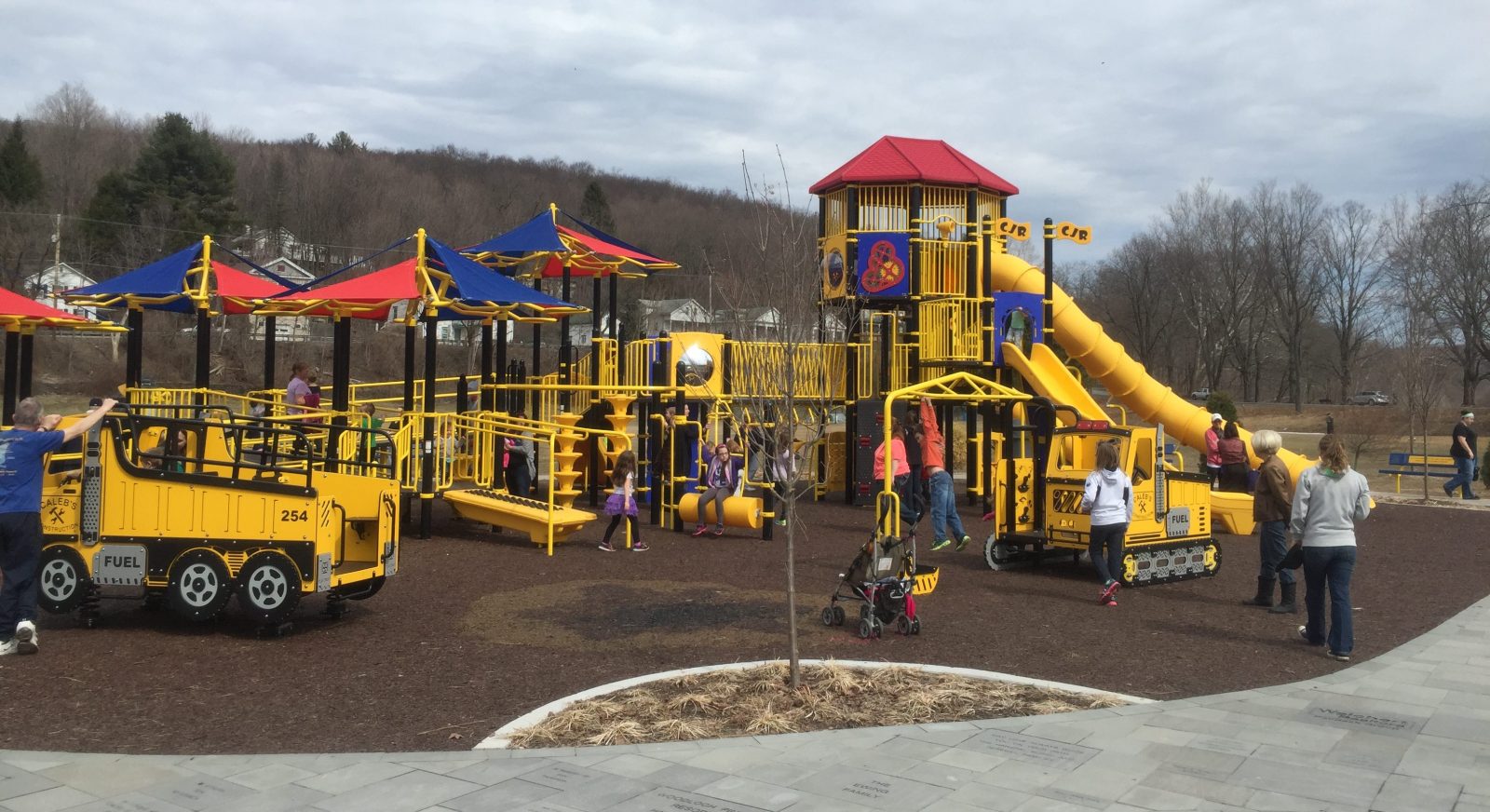 Dear Friends:
In July of 2012, we applied for a DCED Grant from the state that would cover roughly 80% of the necessary funds required for the project.  A grant was awarded in the amount of $225,167 from the Department of Community and Economic Development!  We also were awarded additional  grants from the Wayne County Redevelopment Authority for $15,000 and the Ronald McDonald House Charities of NEPA for $10,000.  With the grants and money raised from events and sales of pavers, we were to begin construction of the playground on September 11th of 2014.   On November 1st. of 2014 we dedicated the playground and since then it has been a destination for all local families to enjoy.  This playground caterers to children from 5—12 years of age, and is also handicapped accessible. A playground that ALL children in our community will enjoy for many years to come.

Blue Stone Pavers
Fundraiser & Sponsorship
We will continue to raise additional funds through sales of Blue Stone Pavers that have been placed throughout the walkway in and around the playground.  Additional money raised will go towards maintenance and other improvements to the park.
For your sponsorship, we will engrave your personal message and/or business logo on one 24"x24" paver that will be placed in the walkway around the CJR Memorial Playground. Additional sponsorship levels will also include a park bench that will display your message and/or logo.
Print out an application from this page and get your paver today!!
Importance of Outdoor Play*
Playing outside on playground equipment helps children master physical skills that cannot be practiced inside the house.
Outdoor play strengthens a child's social skills and helps build confidence. Playing on a see-saw, waiting for a turn in the sandbox or helping a friend onto a swing stresses the importance of communication and cooperation.
Playing outdoors is the place children are likely to burn the most calories, which helps prevent obesity.
We are proud to announce that Caleb's Memorial Playground at Hawley's Bingham Park has been completed. A permanent handicap accessible bathroom facility, walkways around the play area and a new toddler play system were all added. Since its dedication on November 1st, 2014 the playground has been a popular attraction for children of many ages. We are extremely happy to see all the children enjoying Caleb's playground!
* Livestrong.com, The Importance of Outdoor Play. May 5, 2011