CALEB JOSEPH REGENSKI
10.18.04 – 2.25.07
As a parent, you never expect that your child will be granted his angel wings before you do and I am sure anyone can agree that it is a parent's worst nightmare. This nightmare became a reality for me and I'd like to share Caleb's story and how I am healing through helping other families.
My beautiful son Caleb was a healthy two-year old boy and early in February 2007, he was showing signs of the flu. His mom and I did not think it was anything major however, in a few short days, we received devastating news. Caleb was diagnosed with a malignant brain tumor.
We spent a week at the Children's Hospital of Philadelphia trying to save our little boy. Our extended family and friends supported us every step of the way and allowed us to spend the remaining time we had with our son instead of worrying about responsibilities at home. Without their support, Caleb's mom and I would not have been able to care for what was most important, our son Caleb Joseph.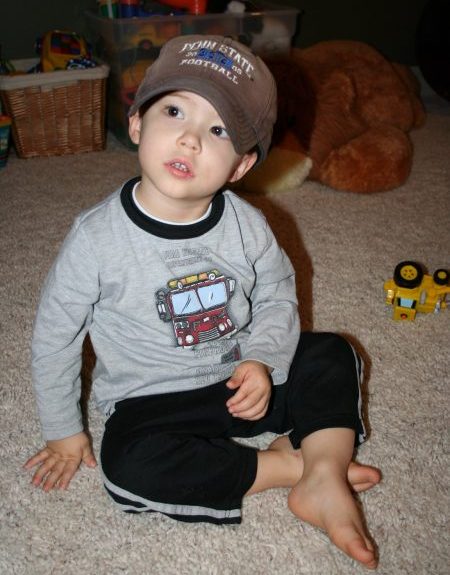 Though consumed with Caleb's situation at the time, the number of critically ill children without the support of their families became obvious. We wondered why weren't these families here with their child during such a critical time? After speaking to many staff members at the hospital, we learned their absence was due in part to the parent's inability to support their families other responsibilities away from home. Financially, they couldn't just take off work and stay at their child's bedside. They had other siblings to worry about at home, bills to pay, and some were single parents living on a single income. It was heartbreaking to see that these families were not as fortunate as ours. I couldn't imagine what it would be like to not be able to hold my son's hand, lay next to him, or even read him a book.
There are many children receiving medical treatment at institutions such as Children's Hospital of Philadelphia. Although Caleb lost his battle after just a few days in the hospital, many other children have long roads ahead. Some may spend months in the hospital receiving various treatments and I wanted to help so their parents could be there for them. The CJR Memorial Foundation assists parents financial burden to help create a family presence, which is an instrumental part of the healing process.
In addition, contributions will be made towards the following:
Brain Cancer Research at the Children's Hospital Of Philadelphia. There they continue to discover  methods for treatment of many types of cancer. Researchers are closer and closer to finding a cure.
Sponsor a room at the Ronald McDonald House for the year in Caleb's name. The Ronald McDonald House program provides a "home-away-from-home" for families so they can stay close by their hospitalized child at little or no cost.
Sponsoring a family or families through the Make-A-Wish Foundation.  Making wishes come true for critically ill children and their families.
I founded the CJR Memorial Foundation with the goal of providing financial support to families who must work rather than spending time with their sick child. Since then, I felt it was important for me to give back to the community that supported my family and the Foundation for so many years. I recently had the opportunity to create a playground in Caleb's town. My goal with the playground is to promote a healthy lifestyle for all children and provide a safe environment for families to spend quality time together in a beautiful park setting. As a parent, sometimes it is difficult to savor the precious moments we have with our kids, I hope that the CJR Memorial Foundation can provide families with resources for quality time together be it in a park or during their treatment.
In July of 2013, we applied for a DCED Grant from the state that would cover roughly 80% of the necessary funds required for the project.  A grant in the amount of $225,167 was awarded from the Department of Community and Economic Development!  In addition, we were awarded a grant in the amount of $15,000 from the Wayne County Redevelopment Authority along with a $10,000 grant from the Ronald McDonald House Charities of NEPA.  With the monies raised, we began construction of Caleb's park in the spring of 2014. This play system caters to children between 5—12 years of age, and will also be handicapped accessible. In 2016 we were able to upgrade the parks existing toddler play area and install a permanent bathroom facility. All of which is handicapped accessible. This has become a destination for many families in the area to enjoy. We are proud of what was accomplished in Caleb's memory. With the help of all the donors and volunteers over $350,000 was raised for the construction and renovation of our local park.
Since Caleb's passing, countless families have been assisted and thousands of dollars have been raised. With your support, the CJR Memorial Foundation can help many more!
Keeping Caleb's Memory Alive,
Joseph Regenski (Caleb's Dad)